The Lower East Side in New York City is a Jewish foodie heaven with the best lox, pastrami, knishes, pickles, and babka in the United States. This neighborhood keeps the food traditions alive that Jewish immigrants brought to NYC over 100 years ago.
At it's peak in the early 1900's, the Lower East Side had about 90 Jewish food shops and restaurants within just nine blocks. Although the area was overcrowded and poor, its residents strove to continue their culture, especially the Eastern European food. Since then, the area has been home to other waves of immigrants and is no longer an active Jewish neighborhood. Nevertheless, traces of Jewish life remain, especially the iconic Jewish food that is still going strong today.
What follows is a self-guided Jewish food walking tour. You'll learn where to go and what to order. Let the deliciousness begin.
Houston Street: Jewish food crawl, part 1
Walking from shop to shop and sampling the food is one of the best things to do in the Lower East Side of NYC. Start your Jewish food crawl on Houston Street. Within four short blocks, you can experience the best food that NYC has to offer at Russ & Daughters, Katz's Deli, and Yonah Schimmel's Knish Bakery.
Remember to arrive well before lunch time as they all get long lines with people waiting out the door. Starting at 10 AM is not too early, but note that Yonah Schimmel doesn't open until 11 AM. Check current hours so you can plan accordingly.
If you want to get your food to-go and then eat outside, there are parks across the street from Yonah Schimmel and behind Kossar's Bialys is Seaward Park.
Russ & Daughters Appetizers
Russ & Daughters is a Jewish appetizing shop which means that they sell foods that you put on a bagel. This is the ultimate place for bagel lovers with an endless number of topping options. They set the bar high with around 11 varieties of smoked and cured salmon and 9 options for cream cheese such as vegetable, caviar, and vegan. Then there's sturgeon, sable, trout, and more. Go ahead and select your favorite varieties of bagel, cream cheese, and fish to build your ultimate sandwich. For non-fish options, they have egg salad, chopped liver, and cream cheese. You'd be hard pressed to find a better one-stop shop.
Since you order from the counter, you get to watch the counter person work their magic. I was thrilled to watch their expertise as they hand sliced the lox extra thin. Every sandwich is made to order. There's no seating at the Houston Street location, so it's all to-go. For the ultimate experience, get a variety of bagel toppers and enjoy them all weekend long. (Note to self: get an AirBnb apartment next time, so I can load up on R&D treats and eat for days.) The good news is the Russ & Daughters Cafe nearby on Orchard Street will re-open later in 2022, and it has tables for dining.
The same family has operated Russ & Daughters for four generations starting in 1904 as a pushcart and then moving to a storefront in 1914. The shop is very popular, so try to go on a weekday, arrive early, and have patience. They have their own (confusing) number system for determining whose turn it is to order. You get a number when you arrive and wait outside. Then you need to listen for a range of numbers to be called. If your number falls within that range, then it's time to move inside. Next, you wait a short while next to the counter until it's your turn to step up to the plate. The wait is well worth it when you take your first bite of food.
In addition, I was happy to discover that their chocolate babka (similar to a coffee cake) is very fresh and delicious. I checked, and they said that the babka was baked that day. It was the best babka that I've ever eaten. The cake part was soft and fluffy, and the chocolate was dark and good quality, but not overwhelming. It's available by the slice or as a whole loaf. I learned that they have their own bakery in Brooklyn where they also bake bagels, rugelach, black & white cookies, and other Jewish treats.
Katz's Deli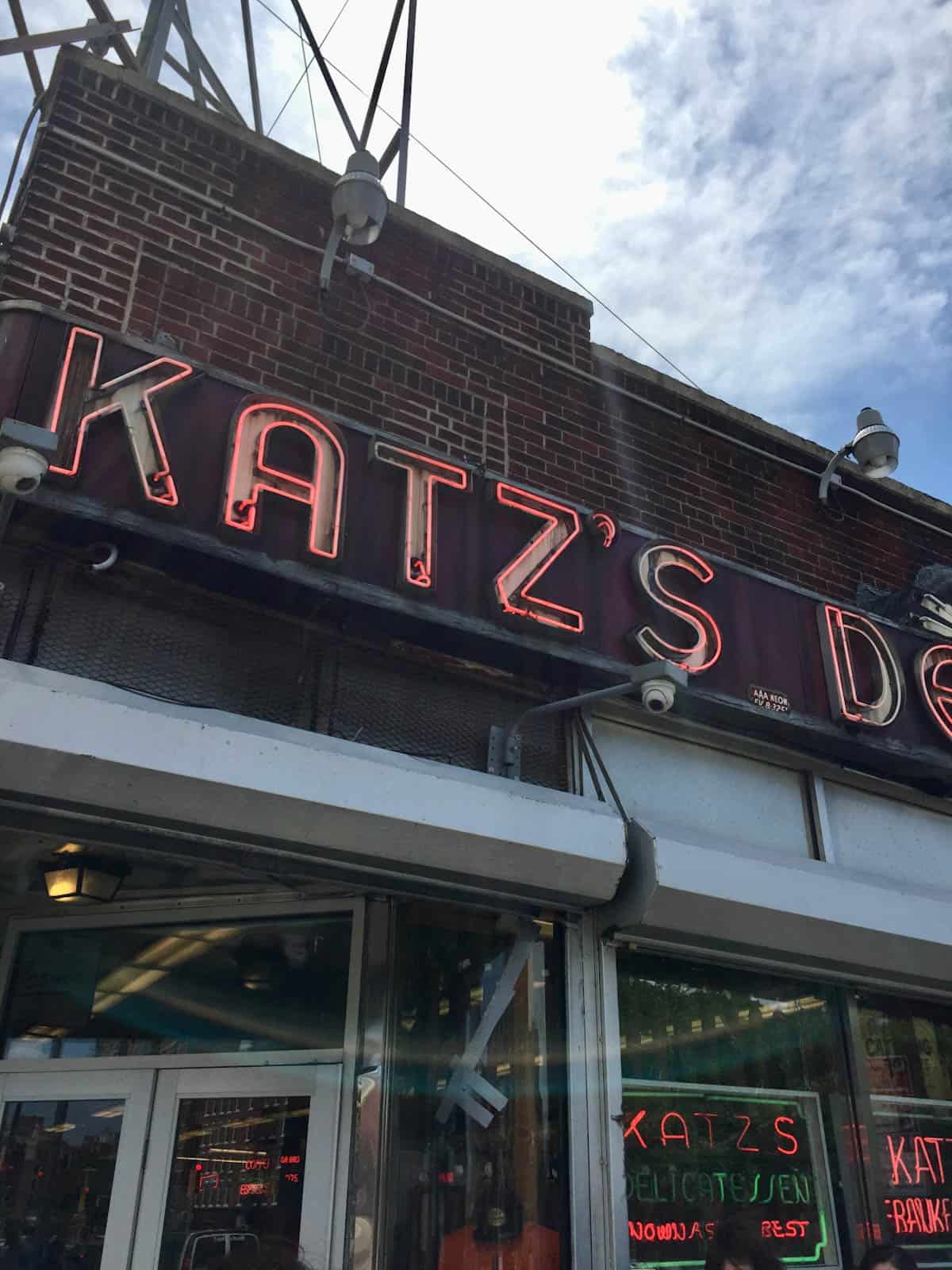 Katz's Deli is conveniently a block down and on Houston as well. Arguably the best Jewish deli in NYC, Katz's has been operating since 1888. But it needs no introduction. Remember the scene in the movie "When Harry Meets Sally" when a woman blurts out to the waiter, "I'll have what she (Meg Ryan) is having." Well, the woman must have been talking about the pastrami sandwich, which is, by all standards, an orgasmic experience. Don't bother ordering anything else. This is the ultimate pastrami sandwich, and the single best thing that they sell. For a drink, take my father-in-law's advice and get a Dr. Brown's cream soda.
Katz's also has its own idiosyncratic system for ordering food too. Upon entry, you are given a paper ticket which needs to be presented to each of the different stations (meat carving, side dishes, drinks, etc.) where your selection is marked on your ticket. DO NOT lose that ticket as it needs to be presented upon exit to the cashier to settle up your bill. Lose that ticket and you will face the consequences.....whatever that means, and I didn't want to find out. In any case, based on the size (and projected strength) of the security guard next to the cashier, I strongly suggest you hang onto your ticket with your life. 
Now...back to the pastrami. When you order your sandwich, stick to the traditional rye bread and mustard. The person at the cutting station will usually give you a generous sample to try while he is preparing your sandwich. And, boy is it heaven. Lean, hot, moist, and with just the right amount of garlic and peppercorn flavor. The pastrami literally melts in your mouth. Trust me, your tastebuds will be dancing. And, make sure to tip the person at the cutting station BEFORE he finishes your order. The result will be a sandwich that is probably the equivalent of 2 to 3 sandwiches from anywhere else. The sandwich is easily shareable. But, be prepared to pay for it too. My order, which came with several different pickles and was a mile high, cost just over $23.00, including tax. That's a lot! But, it's worth it.
Yonah Schimmel Knish Bakery
Yonah Schimmel is also nearby on Houston Street. They started as a pushcart and then opened as a storefront in 1910, making them the oldest family owned and operated Knishery in America, according to their website. They are kosher too.
I saw the owner arrive to start preparing the food and could see that they were making everything fresh that morning. They are known for their knishes filled with mashed potato or kasha (buckwheat). By definition knishes are a snack made of thin dough stuffed with various fillings and then baked, but Yonah's knishes are large and filling enough for a meal. They also have many other tasty versions such as sweet potato, cabbage, and soft cheese with fruit.
In addition, while you're there, order an egg cream drink to get the full old-fashioned Jewish experience. It's a carbonated drink that's just a touch sweet, a little chocolatey, and made to order with milk, seltzer, and Fox's U-Bet chocolate syrup. There is no egg or cream in the drink despite its name, and no definitive backstory as to how this misnomer came to be. All I can't tell you is that an egg cream tastes like nostalgia, of a bygone era. This drink was extremely popular in the 1900's and was commonly made at soda fountain counters, especially in NYC.
Tenement Museum
While on the Lower East Side, be sure to go to the Tenement Museum on Orchard Street to learn about the history of the neighborhood. It's very moving and memorable. Make a reservation in advance because it's a guide-led, immersive experience that is offered on specific days and times.
The museum is in a former tenement building where Jewish, German, Italian, and other immigrant families lived during the 1860's until the 1930's when the building was condemned. In addition, the museum has a second apartment building and walking tours that cover the time periods up to the 1980's. Your guide re-enacts the journey of actual people who lived in the building. It's interesting to learn about the plight of different families and to see the artifacts and living conditions of the time period.
I had a hard time picking which specific tour I wanted to see because they all sounded so interesting. Ultimately, I picked an apartment tour with a convenient time, and my whole family was enthralled with the tour. I highly recommend this museum for a unforgettable experience.
Now back to the food.
Grand Street: Jewish food crawl, part 2
Going to the above three establishments on Houston Street is more than enough amazing food for a satisfying food crawl, but we wanted to go for the ultimate experience. So, we headed over to Grand Street to check out three more places which are close together in a row. It's about an 11 minute walk from Houston over to Grand Street. The Tenement Museum is about halfway between the 2 sets of food shops.
The Pickle Guys
The Pickle Guys are not just about the pickles, although those are very tasty indeed. They also have every imaginable vegetable pickled and displayed in barrels, including olives, peppers, and onions. They even have pickled pineapple and mangoes. Their pickled foods are made the old-fashioned way without preservatives and are kosher. If pickled foods are your jam, then this place is not to be missed. In addition, if you're looking for homemade horseradish around Passover time, then stop by here for authentic, fresh horseradish; it's a seasonal specialty.
Kossar's Bagels & Bialys
 Kossar's is a few doors down, and they've been making bialys since 1936. They are the oldest remaining bialy bakery in the US. Bialys are a cousin to bagels, but they're softer like an English muffin, and they have onions and poppy seeds in the center. The bialys are made on site in brick ovens. Sometimes you can catch them in action and watch through a window while they make the bialys in the back.
Kossar's also sells bagels, bulka rolls (soft wheat rolls), and pletzels (onion boards) in addition to some Jewish sweets. You can get cream cheese and sandwiches there too. Kossar's is doing their part to keep these traditional Jewish baked goods alive for all of us to enjoy.
Doughnut Plant
Doughnut Plant is couple doors down from The Pickle Guys and Kossar's on Grand Street. So, even though they are not a Jewish food, don't miss an opportunity to try their legendary and creative doughnuts. They're even kosher.
The doughnuts are extra fresh and made without preservatives. Both the cake and raised are excellent, and now they have sourdough which is made with wild yeast and isn't sour. Their less common flavors like blueberry or peanut butter & jelly are excellent as are their traditional flavors like vanilla and chocolate. Choose your favorite or try a new combination; you can't go wrong.
The Most fun in New York City
A Jewish food crawl in the Lower East side makes for an unforgettable day. The food tour is great for a group or is a fun thing to do alone in New York City. The memories of these beloved Jewish dishes linger long after the adventure.
If you crave these Jewish foods and you're not in NYC, all six of these companies offer nationwide delivery. Check out their websites or Goldbelly for details, and let the feast begin.
What are your favorite Jewish dishes to order at these establishments? Share in the comments.