Discover Jewish Southern Italy: Culinary Tour 2024
Details for the summer 2024 trip will be announced in August of 2023. What follows is an example of what is to come.
I'm leading an all-inclusive,* small group trip to southern Italy for adult individuals and couples. This land tour is a unique, curated experience that is part sightseeing, part cooking experience, and full of Jewish cultural and culinary discoveries.

We'll walk in the footsteps of Jews who lived in southern Italy 500 years ago, learn how Italy is honoring this history today, and learn about the current Jewish communities. We'll cook southern Italian Jewish dishes at the Awaiting Table Cooking School featuring cuisine from 5 regions: Lazio (Rome), Puglia, Sicily, Calabria, and Campania (Naples).

I'd love for you to join us,
Dana Shrager
Get notifications for the 2024 Italy trip: Join my email list. SUBSCRIBE
Dates and Cost
DATES: Exact dates will be announced August 2023- planning on late June/early July 2024
DURATION: 10 days and 9 nights
PRICE PER PERSON: Will be announced August 2023
NONREFUNDABLE DEPOSIT PER PERSON: $3000.
Jump to:
Highlights (example trip)
Roman Jewish quarter tour with lunch at the best new restaurant.
Shabbat dinner with the Roman community.
Rome shopping tour.
5 days at the Awaiting Table Cooking School featuring southern Italian Jewish cooking.
Shop like a local at the Lecce produce market, butcher, and fish monger.
Olive oil and wine tastings.
Tour of the Lecce's former Jewish quarter, including a Medieval mikvah (ritual bath).
Day trip to displaced persons museum and seaside lunch.
Day trip to Trani, Italy, a beautiful port city with a former Jewish quarter.
Curated restaurants with regional cuisine.
Kosher-style and vegetarian meals available.
Example Tour Details
Our adventure starts with 2 nights in Rome where we'll stay in the centro storico near the Pantheon. We'll be walking distance to major sites like the Trevi Fountain, the Spanish Steps, Piazza Navona, Campo de' Fiori, and Il Vittoriano.

For those that arrive to our hotel mid-day, I'll lead an optional walk through the area near the hotel, including lunch along the way.

Day 1: The tour officially kicks off with a welcome dinner featuring classic Roman cuisine. Rome is filled with excellent food including pasta, pizza, artichoke, wine, and gelato, and we'll enjoy it all. Food options will include kosher style and vegetarian.
Day 2: We'll tour the Roman Jewish quarter. A member of the Roman Jewish community will be our guide so we'll have the opportunity to learn about the current vibrant community as well as the history of Roman Jews, dating back over 2,000 years. The tour includes a visit to the Jewish museum and Tempio Maggiore, one of the grandest synagogues in Europe.

After this enlightening tour, we'll enjoy lunch in a fabulous, new Roman Jewish restaurant.
In the afternoon I'll take you to one of my favorite museums, the spectacular Doria Pamphilj Galleria, which seems to hide in plain sight despite being in the middle of the city. It's a 16th century residential palace whose ornateness reminds me of Versailles.

In the evening there will be an optional shabbat service and then a group shabbat dinner hosted within a current Roman Jewish community.
Day 3: We'll take a shopping tour in Rome in a golf cart so we can cover a lot of ground in a short time. Give me your wish list, and we'll do our best to cover it.

Next, we'll say arrivederci Rome and take a 5-½ hour train ride to Lecce, Italy. We'll enjoy Italian picnic treats while on the train.

Lecce is in the Puglia region, which is in southern Italy in the "heel of the boot." This area is off the beaten path and not overcrowded. It's where the Italians vacation because of its unspoiled beauty, breathtaking beaches, and white-washed hilltop towns.
It's easy to fall in love with Lecce, Italy, which is know as the Florence of the South. It's a small walled city filled with ornately carved limestone Baroque buildings, palazzos, over 22 churches, a Roman amphitheater, a former Jewish quarter, and a university. It's a step back in time to wander the narrow, meandering streets. It's a safe city to explore with everything within walking distance.

We'll arrive in Lecce in time to have a late dinner and see the bustling nightlife.
Day 4 begins with a tour of the former Jewish quarter in Lecce, which includes a museum and the recently excavated mikvah (Jewish ritual bath). Only small traces remain of the Jewish community that lived there for about 1500 years.

After lunch, I will take the group through the main streets. We'll stop at the Faggiano Museum where the owners have excavated different layers below the city revealing artifacts and building techniques from several time periods all the way back to the Mesopotamian era.

The day concludes with a group dinner in one of my favorite restaurants in Lecce.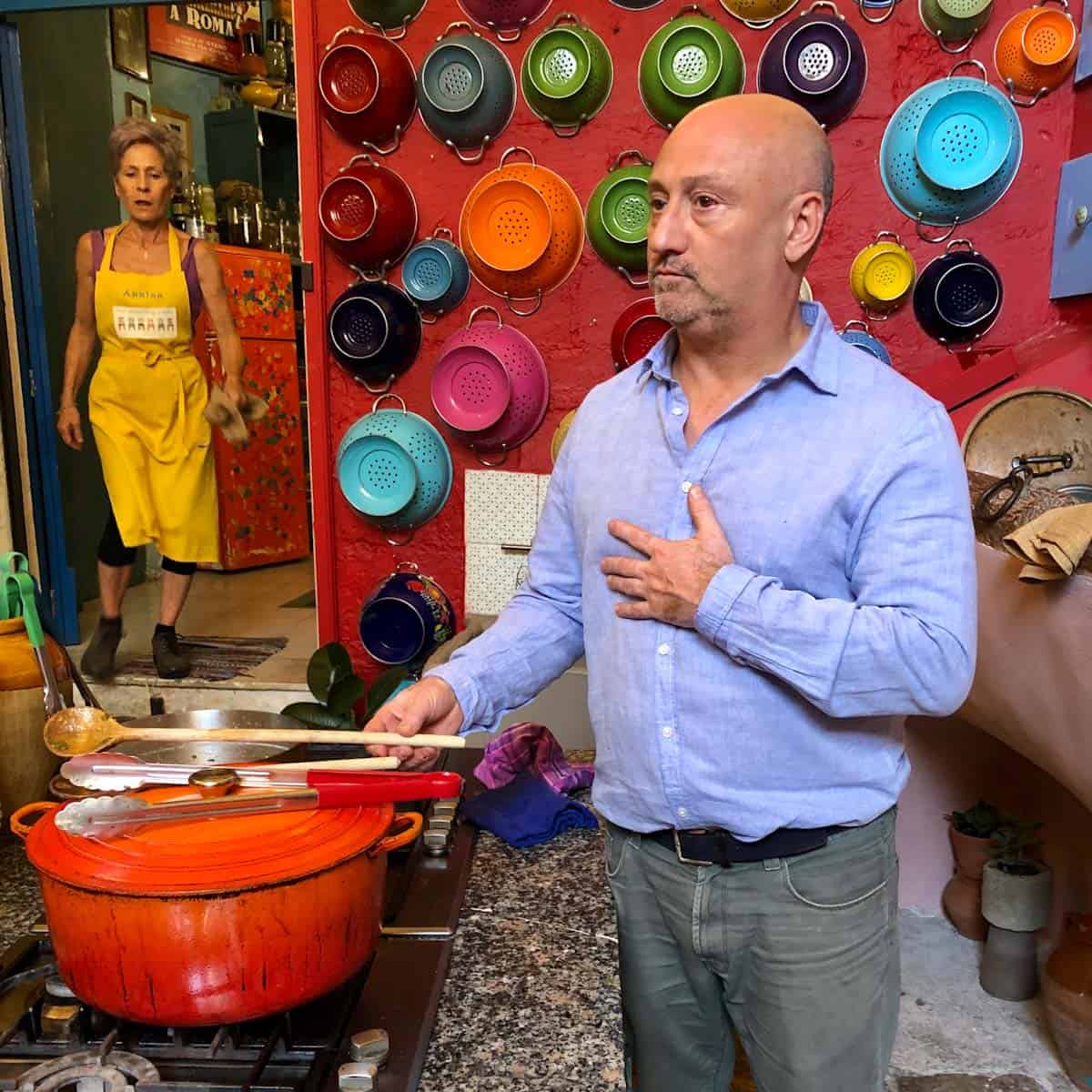 Day 5: Monday at noon starts our cooking adventure at the Awaiting Table Cooking School, which is located in a former palazzo in the ancient Jewish quarter of Lecce. Silvestro Silvestori, the owner, will be our teacher. He has been running the cooking school for 20 years and has had students from 59 different countries. Silvestro is a sommelier of both wine and olive oil. He's a walking encyclopedia of everything Puglia. It will be a fun and memorable five days.
Days 5 - 9: On most days at the cooking school, we'll cook in the morning for our lunch meal. Then after some afternoon free time, we'll gather again to cook our dinner and then celebrate in the dining room.
Silvestro's style of cooking is very Italian and homestyle, so it's relaxed. There's no previous experience necessary. He teaches techniques and how to cook without recipes. You are free to participate as much or as little as you'd like. Hanging out in the kitchen, chatting, and drinking wine are definitely an option.
Each day Silvestro will focus on a different southern region of Italy and the Jewish food from there. He will teach us how Italian food varies by region and how the Jews brought many ingredients to Italy that are now integral to the cuisine. The Jewish food also has adaptations to fit kosher rules and holiday celebrations.

Lastly, I want to tell you that the meals around Silvestro's dining room table are a lively party filled with excellent food, wine tastings, and interesting conversation well into the night. I can't wait to bring you there.
Day 8 and 9: Thursday is field trip day to Santa Maria al Bagno, a resort town on the Ionian Sea. We're going there to visit the displaced persons camp museum. It tells the story of the Jewish refugees who survived the Holocaust and were given shelter in Italy in the Puglia region after World War II until they were able to relocate- primarily to Israel.

Then we'll have an opportunity to walk around and enjoy a seaside meal overlooking the turquoise colored sea.

Friday will be our last day at the cooking school. We'll close out our cooking experience with a special shabbat dinner celebration.
Day 10: We'll leave Lecce and head to the city of Trani on the Adriatic sea. It was a prominent port on an ancient trade route. During Medieval times, the Jews of Trani were well-known for their commerce and scholarship. However, in 1541 the Jews in the entire region were forced to leave, convert, or practice in secret.

What remains today is the Guidecca, the former Jewish area, which is a dense network of narrow streets that are largely untouched since The Middle Ages. In addition, Trani has two remaining synagogue buildings. One was recently rededicated and is now one of the oldest active synagogues in Europe. A second one is now a museum with a Jewish history section. I can't wait to explore all this with you and our guide.

And finally we'll close out our trip with a final lunch in Trani. Then our driver will drop us off at either the Bari airport or train station so everyone can continue their travels or head home.
A note about the time before and after this tour (not included in the price of this tour):
Before: I highly recommend that you arrive in Rome one to two days before the tour starts to get over jetlag and to be fully ready to enjoy the tour. Also, planning to arrive early will give you a buffer against unexpected airline delays.

Rome is a big city, so if you've never been, you may want a couple extra days to explore. If you'd like to add more days to your hotel reservation in Rome prior to this tour, then let us know, and we can ask the hotel to extend your reservation at your expense. Or I can refer you to a spa hotel near Rome, which is an excellent way to start a vacation.

After: If you have the time, I recommend that you stay longer in Puglia to explore more of the seaside and hilltop towns. I can recommend my favorite ones to you.

If you are heading home after the tour, you'll likely need to fly from Bari to Rome and then stay by the airport overnight to take an international flight home the next morning. I can refer you to two airport hotel options.
---
Example Accommodations
Sample of What's Included and What's Not
What's Included:
*This tour is an all-inclusive land tour from the time we start at dinner on the first day until we conclude with lunch on the last day. I have curated all the activities and meals into a unique experience. Sit back and enjoy as I have taken care of everything during our time together.
2 nights hotel in Rome, Italy.
7 nights hotel in Lecce, Italy.
All breakfasts, lunches, and dinners during our time together. Wine included with all dinners.
Sightseeing, guides, and entrance fees as well as 5 days at the Awaiting Table Cooking School as listed in the itinerary below.
Ground transportation from Rome airport or train station to hotel in Rome.
First class train from Rome to Lecce and ground transportation from train station to hotel in Lecce.
Ground transportation from Trani city center to Bari airport or train station.
Gratuities for all included activities, guides, and transportation.
What's not included:
Your international airfare and your transportation out of Bari, Italy.
Any additional travel that you do before or after this tour.
Travel insurance (highly recommended).
Shopping.
Minibar and incidental expenses at the hotels.
What you do during free time periods.
Any extra taxis you elect to take.
Any additional food or drink that you elect to buy.
Passport fees.
Sample Itinerary
Wednesday Depart for Italy to arrive the next day (or I suggest that you arrive a couple days earlier to get over jetlag). International airfare is not included.
Thursday The tour starts with a group welcome dinner. (For those arriving earlier in the day, I'll take you on an optional walk through the Centro Storico with lunch along the way.)
Friday Guided tour of the Roman Jewish quarter, synagogue entrance, lunch in a Roman Jewish restaurant; Doria Pamphilj museum; rest time; optional shabbat service; group shabbat dinner.
Saturday Shopping tour. Casual lunch. Late afternoon train to Lecce with snacks. Check into hotel. Late dinner and optional nighttime stroll around town.
Sunday Free morning in Lecce for resting and exploring. Mid-day tour of Lecce Jewish quarter and museum; casual lunch followed by afternoon group walk through Lecce including pass to enter multiple churches and Faggiano Museum; group dinner in Lecce.
Monday Free morning. At noon meet Silvestro of the Awaiting Table Cooking School and start cooking and eating! Then late afternoon free time, followed by more cooking, eating, and drinking.
Tuesday – Friday Southern Italian Jewish Cooking class continues. These days start at 10 am with a trip to the local food vendors and include cooking lessons, lunch, and dinner. On Thursday a day trip to Santa Maria al Bagno and the displaced persons museum, plus a seaside meal.
Saturday Day trip to Trani including the former Jewish quarter and lunch; afternoon transportation provided from Trani to Bari airport or train station. Tour ends.
After the tour ends on Saturday afternoon Book your own transportation to your next destination. If you are going home to North America, book a flight from Bari to Rome. Book your own hotel by Rome FCO airport. I have transportation and airport hotel recommendations. These expenses are not included in the trip.
Sunday If you are going home to North America after the tour, this is the date that you will book your international flight home. This expense is not included in the trip.
The itinerary is subject to change if necessary due to events outside our control.
Cancellation Policy
The trip deposit is nonrefundable. The final payment is refundable until 92 days before the start of the trip. Starting at 91 days before trip departure, the final payment is nonrefundable. We strongly recommend that you buy travel insurance. The Terms and Conditions of the trip will be published in August 2023.

Please note that this trip requires a minimum of 6 participants in order to launch. Do NOT book international airfare or add-on travel until Dana's Table emails that the minimum trip participation has been reached. If the minimum is not reached, then the trip will be canceled (or rescheduled), and all payments made for this tour will be refunded. Dana's Table will not reimburse for money spent on airfare, trip insurance premium, or add-on travel.
Booking: starting in August 2023
Get notifications for the 2024 Italy trip: Join my email list. SUBSCRIBE
Dana's Table, LLC is a California Seller of Travel Registration No. 2153297-40. Registration as a seller of travel does not constitute approval by the State of California. Dana's Table is also a registered and participating member of the Travel Consumer Restitution Corporation (TCRC) for California residents. California law requires certain sellers of travel to have a trust account or bond. This business has a trust account.